The Bonnell Building Project, Inc. (BBP) was launched in Fairfield, Iowa in October 2008 as a unique experiment in fostering empowered, passion-driven learning and action by community members, and especially young people.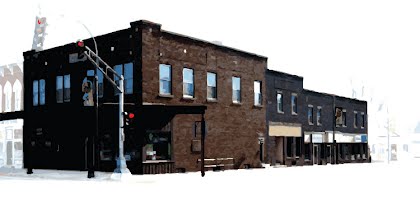 Original Bonnell Building, on the downtown square in Fairfield, Iowa.
The experiment is simple yet unique - have the space in a community center be configured, and reconfigured, by community members based on their passions and interests.  BBP provides the space, but nothing happens without community members showing up and making it happen. In this way, people are empowered to take ownership, responsibility, and action.
In our short time of existence, community members have launched dozens of projects and businesses, and organizations, including a performance venue, an electronics lab, a recording studio, an organization development consulting practice, an artists collective, and many, many more.
Our mission is to provide a supportive, empowering environment for community members to passionately and collaboratively engage in leading-edge, visionary practices in the areas of social entrepreneurship, science and technology, business, and the arts.
The two primary activities of the organization are:
Configuring and setting up space in the Bonnell Building for use by community members to engage in learning activities related to one or more of these areas listed in our mission, then coordinating space usage and providing supporting services such as activity promotion, coaching and mentorship/internship coordination.

Providing space, infrastructure and support for community members with startup projects and organizations (nonprofit and for-profit) that fit into one or more of the areas listed in our mission.
The volunteer-run non-profit was launched with the purchase of the Bonnell Building, a 12,000 square foot building downtown on the square (SE corner of Burlington Ave. and Main St.). In October 2011, the BBP purchased a piece of property in the center of Fairfield, only a few blocks from the town square. The property, which was previously occupied by St. Mary's Catholic Church, includes a five-bedroom home, a 15,000 square foot school building with a large commercial kitchen, and a 1500-square-foot workshop building on 1.7 acres of land.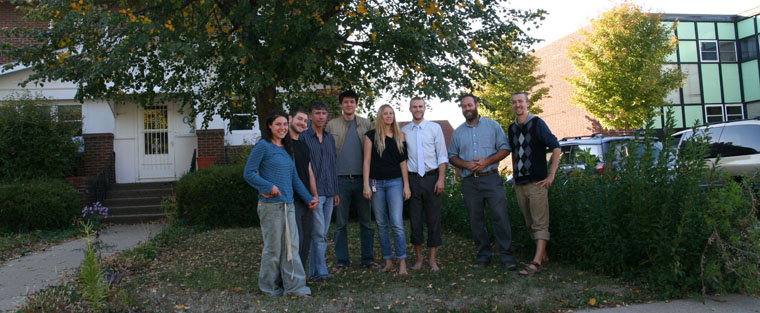 Bonnell Project crew after the purchase of St. Mary's property on North 3rd St, in Fairfield, Iowa